Vampire
Talk

0
4,974pages on
this wiki
This is the transformation caused by the Become Vampire Device. A second set of powers are avaiable when using the Beast Form power.
Using the Become Vampire device turns you into a Vampire.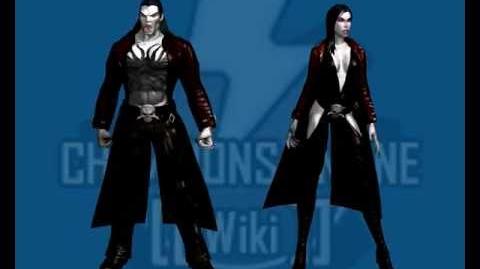 Using the Beast Form Power while a Vampire turns you into a monstrous bat creature with a replacement set of powers.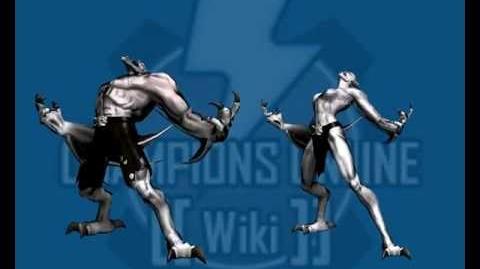 Vampire Power Bar
| Icon | Name | Type | Description |
| --- | --- | --- | --- |
| | Infernal Bolts | Energy Builder | Infernal Bolts fires shards of toxic energy at your enemy. |
| | Hemo Burst | Ranged Attack | Emits a blast of toxic blood that may apply fear to your foe. |
| | Beast Form | Form | Transform into a monstrous bat creature. |
| | Vampire Flight | Travel | Transform into a swarm of bats. |
| | Regeneration | Buff Self | Regeneration greatly increases the speed at which you recover from wounds. |
| | Lifedrain | Ranged Attack | Lifedrain utilizes dark energy to transfer life energy from your enemy to you. |
| | Ebon Void | Block | Ebon Void creates a protective barrier that reduces incoming damage by bleeding off the damaging effects into another dimension. |
| | Condemn | Ranged Area Attack | Condemn causes a concentrated burst of Toxic energy to slam into your enemies. |
| | Shadow Shroud | Buff Self | Shadow Shroud wraps you in Darkness and Dimensional energies; this connection to the nether forces improves your combat abilities for a short period of time. |
| | Soul Mesmerism | Crowd Control | Soul Mesmerism attempts to hypnotize your enemy, preventing them from taking any actions. |
| | Defile | Ranged Attack | Defile greatly damages your target and weakens their resistance to toxic damage. |
| | Resurgence | Healing | Resurgence focuses your body's healing power into a quick burst of health. |