The Southwest Desert is a region in Champions Online consisting of various areas. It is representative of the southwest region of the United States (Arizona, Nevada, New Mexico, Utah).
The Southwest Desert is one of two zones available upon completion of the Millennium City crisis mission.
Upon arrival, you must complete a crisis mission before unlocking the whole zone.
The Desert is connected to both Canada and Millennium City via a helipad in Project Greenskin.
Areas that appear on world map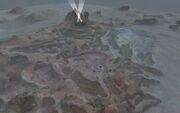 Areas that do not appear on world map
Ad blocker interference detected!
Wikia is a free-to-use site that makes money from advertising. We have a modified experience for viewers using ad blockers

Wikia is not accessible if you've made further modifications. Remove the custom ad blocker rule(s) and the page will load as expected.