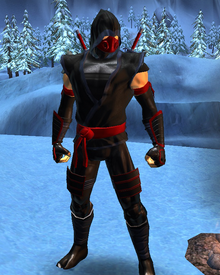 Black Mist
Villain

---

Identity
Unknown
Race
Human
Gender
Male
Faction
The Brain Trust
Powers
Ninja Training
Transformation
Mind Control
Black Mist is a member of the Brain Trust super villain group.
In Champions Online
Edit
Black Mist can be found in the Canadian Wilderness, working with the other members of the Brain Trust to enslave the Hunter-Patriots to the will of the Overbrain. He and his teammate, Lynx, have been tasked with the location and capture of a clone of Teleios near Force Station Steelhead.
For the articles on the character's appearance in the Canadian Wilderness, see: Black Mist (Force Station Steelhead)
Missions
Edit
Mission Objective
References
Edit
Ad blocker interference detected!
Wikia is a free-to-use site that makes money from advertising. We have a modified experience for viewers using ad blockers

Wikia is not accessible if you've made further modifications. Remove the custom ad blocker rule(s) and the page will load as expected.